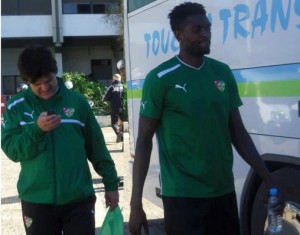 The Togolese coach, Didier Six has invited a list of 22 players for the friendly match against Oman in Sohar on December 29.
Adebayor Sheyi who had announced his temporary withdrawal from the national team does not appear in the group as well as Agassa Kossi, the goal keeper of Reims and Jacques Alaixys Romao of Lorient.
We notice however the presence of Dossevi Thomas and other players such as Serge Gakpé, Amewou Komlan, Segbafia Prince, Nibombé Daré and others.
Here is the list of the invited players:
Goalkeepers: TCHAGOUNI Baba (France / DIJON) ATSU Mawugbe (Togo / MARANATHA).
Defenders: NIBOMBE Dare (Belgium); OURO AKORIKO Sadat (South Africa / FREE STATE STARS) Gaffar Mamah (Moldova / DACIA FC) AKAKPO Serge (Slovakia / ZILANA FC) Senah MANGO (France / Marseille) BOSSOU Vincent (Vietnam / Saigon FC) DONOU Kokou (Togo / MARANATHA) Djènè Dakonam (Cameroon / COTTON SPORT).
Midfielders: Amewou Komlan (France / NIMES) SALIFOU Moustapha (); WOME Dove (South Africa / FREE STATE STARS) SEGBEFIA Kossi Prince (France / AUXERRE) Amétépé Kodjo (Togo / MARANATHA) MANI SAPOL (Algeria / CA BATNA);
Forwards: Thomas Dossevi (Schonbouri / Thaillande) Gakpe Serge (France / Nantes) DAMESSI Kalen (France / Lille): PLACCA Fessou same (Togo / Agaza)
In wait for confirmation of participation:
Agassa Kossi (France / Reims)
ADEBAYOR Sheyi (England / TOTTENHAM)
Read also:
http://en.africatopsports.com/2012/12/19/afcon-2013-togo-plead-for-adebayor-to-play/