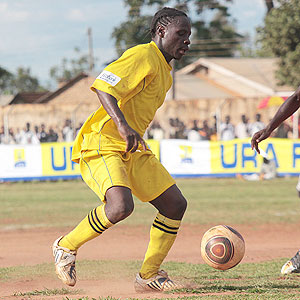 It's now six months since Cranes striker Robert Ssentongo was declared Uganda's finest as he scooped the Bell Super League Footballer of the Year and Top Scorer's awards in June.
Not all the glitz seen at Serena Hotel then is glamour today as the striker is yet to receive the top prize a car. He, however, got his Shs2m cash and the land title.
Uganda Breweries Limited (UBL), the league's title sponsors, financed the awards and have stepped in after URA club chairman Ali Ssekatawa wrote to them on Tuesday last week demanding that the car be given to the striker.
"We have severally engaged Mr. (Dennis) Mbidde of Worldwide Marketing Limited, the event's organiser, who on many occasions assured us that he has the car but cannot release it to the player because of branding issues with Bell," reads part of the letter seen by this newspaper.
"We are in the middle of the new season but the boy has not accessed his hard-earned prize." UBL's Managing Director Alasdair Musselwhite responded to URA's letter on Wednesday assuring them they will take up the matter.
"We assure you that we will investigate this matter and bring it to a speedy and logical conclusion," he wrote.
The moment the prize was announced and Ssentongo accepted the same, a binding obligation to honour the pledge was created. But Mbidde hit back saying that UBL has never given him money for the car. "UBL contributed to the awards night but never gave me money for the car," said Mbidde.
"The current wrangles between Fufa Super League and Uganda Super League have not helped the situation but Ssentongo will get his car. I am hoping at the end of February we will do our first monthly Bell Super League awards and Ssentongo will get his car then."
The URA striker, who top scored with 13 goals last season, beat three other candidates to the award as it was revived four years after Brian Umony (then at KCC) won it.
"They tell me that the car is around but they don't give it to me," explained Ssentongo. "They even reached an extent of asking me whether I want either a (Toyota) Nadia or a Progress and told them what l want but they have not come good."