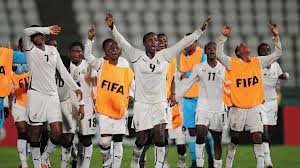 The Black Maidens have shockingly lost out on the African Women's Team of the Year Award after Equatorial Guinea were adjudged the continent's best at the 2012 GLO-CAF Awards in Ghana's capital, Accra on Thursday night.
The Ghanaians were beaten to the award by Equatorial Guinea who won the 2012 African Women's Championship on home soil this year.
The Black Maidens historic feat at the world showpiece where they defied odds to clinch bronze at the 2012 FIFA World Under-17 Women's Championship in Azerbaijan was deemed not enough.
The news will be shocking for many fans on the continent considering the fact the Black Maidens put the continent on the world map after they became the only African country to win a medal at the World Cup.
Ghana FA boss Kwesi Nyantakyi was hugely confident about the chances of the team to win the award following their sterling performance in Azerbaijan
The criteria by which the winner was chosen was not highlighted but this is set to spark massive debate in the West African country.