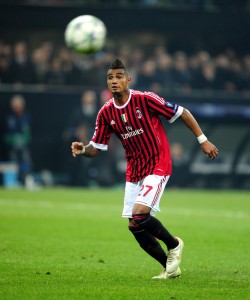 AC Milan's German-born Ghanaian, Kevin-Prince Boateng, has been as clueless in front of goal as highly rated Swedish international Andreas Andersson was during the 1997-98 season.
The former Göteborg star didn't last long at Milan and was swiftly sold to Newcastle United in 1998.
Kevin-Prince Boateng suffers from "Roberto Carlos syndrome," where netting several spectacular goals has created an insatiable need to score more goals in similar fashion.
It partly explains why Boateng is the worst shooter in Europe's elite leagues. His 49 shots per goal isn't bad, it's not awful it's sabotaging your own team.
Luis Suárez, who is the Premier League's biggest culprit when it comes to wasting chances, takes 9.6 shots per goal.
Cristiano Ronaldo, who leads Europe with shots per game, registers 8.4 shots per goal.
Fernando Torres regularly chokes in front of goal, but his 6.0 shots per league goal looks economical compared to Kevin-Prince.
Stephan El Shaarawy's 17 Serie A goals have come at 4.1 shots per goal. That can be considered efficient, while anything above 5.0 shots per goal is straying into the inefficient zone.
The biggest problem with KPB is his selfishness. He averages 3.8 shots per league game compared to El Shaarawy's 3.4.
What Boateng is effectively doing is denying SES chances to score more goals, and therefore hurting AC Milan.
The whole idea of playing Kevin-Prince in an advanced attacking role, even though he's not a facilitator, is his dynamism. This enables him to create his own shot.
Now that he's in an epic slump, Milan are basically playing with 10 men whenever he starts.
Kevin-Prince Boateng is physically gifted, he has a cannon of a shot and he did his marking duties for then-Ghana manager Milovan Rajevac.
Boateng's performances as a box-to-box midfielder at the 2010 FIFA World Cup prompted AC Milan to sign him.
I hope you know he's being played out of position as a trequartista or as a wide forward.
Kevin-Prince's phenomenal goal against Barcelona, the super-sub hat-trick vs. Lecce, the cracking volley vs. Arsenal and countless individual moments last season can be summed up in two words Totò Schillaci.
KPB as a trequartista that can't create is a gimmicky role which has been exposed this season.