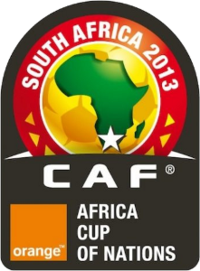 South African fans have been urged to take advantage of discounts on offer by buying their tickets for the 2013 African Cup of Nations before 20 December, as the organising committee pushes for full stadiums at the continent's footballing showpiece.
With teams and groups for the 2013 African Cup of Nations (Afcon) having been decided after the draw in Durban on 24 October, fans can now plan their attendance at games as the battle to decide which is Africa's best national football team takes place.
Afcon local organising committee (LOC) head Mvuzo Mbebe told reporters in Johannesburg on Wednesday that the LOC's goal was to sell between 350 000 and 400 000 tickets by the end of December.
The Ethiopian and Zambian Federations have already made requests of 15 000 and 10 000 match tickets respectively. Before the draw was made, 20 000 tickets had already been sold.
Ticket discounts
Discounts will be on offer to those fans who buy tickets between 25 October and 20 December."This is the last and final opportunity for individual ticket buyers to buy discounted tickets. They must grab this opportunity and enjoy what will be a spectacular soccer experience on African soil," Mbebe reckoned.
People purchasing category one tickets (closer to the pitch and in the centre of the ground) will receive up to a five percent discount, while category two tickets (closer to the pitch and behind the goal posts) can be purchased with up to a 10 percent discount.
Special packages, which will include a discount, to be known as "follow your team", will be made available for those fans wishing to follow their favourite team.
"We are saying to our local fans, go and buy your tickets now," Mbebe said. "We want to encourage them not to buy match tickets for Bafana Bafana games only, but also for other national teams."
Special security features for tickets
Mbebe also addressed the issue of counterfeiting, urging fans not fall victim to scammers who were already selling vouchers by claiming that they would be used as match tickets for the tournament.
"People have seen the ticket we used during the official announcement of the ticketing sales. They have already started duplicating those tickets. The fact is that the actual tournament tickets are not going to look like that replica ticket, either in terms of design or look," Mbebe said.
"When you buy your ticket, you will get a voucher or a reference number, meaning that there is nobody else in this country who knows how the tickets look like for the tournament," Mbebe said. "The tickets will have particular features which will not make it easy to duplicate.
"There will be particular features on those tickets in terms of the reference numbers and we've embedded certain things somewhere on the tickets, and this is only known by our security personnel … fans would never know where those features would be placed."
'Bring your vuvuzelas'
There was good news for South African football fans on the subject of the controversial vuvuzela. "Vuvuzelas are part of our football culture in South Africa," Mbebe said.
"They create a jovial mood in the stadium. Vuvuzelas are instrument of enjoyment at the stadium, and they are not an instrument of beating up the coach."
Mbebe said November would be a crucial time to promote the event. "We will now embark on a massive public awareness campaign through advertisements on radio, television, print as well as outdoor campaigns which will include outdoor billboards, street posters, host cities beautification, outdoor public activities."
The South African government has allocated R452-million to the LOC for the hosting of the tournament, of which R83-million is for the operating costs of the LOC.
The organising body's chief communications officer, Sipho Sithole, said the remaining R369-million would be used to run the tournament in the host cities of Johannesburg, Durban, Port Elizabeth, Nelspruit and Rustenburg.