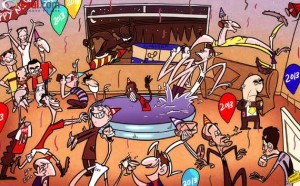 With the fixtures in the world's major leagues wrapped up for the current calendar year, the game's biggest and brightest can celebrate a job (mostly) well done.
You all saw the birth of Africa Top Sports project during Olympic Games. Today we are getting bigger with the english website and mobiles applications.
But there's plenty more to look forward to in 2013 :
Lionel Messi, Didier Drogba, Mario Balotelli, Yaya Touré and Cristiano Ronaldo will carry on and, in all likelihood, reach a few more remarkable landmarks.
In 2013, stay tuned on your favourite sports website en.africatopsports.com to follow one of the biggest event of the year : Afcon with our special envoy in South Africa : Will Zambia keep the title?
And notice that you will get more news about African clubs, African athletics championship, portraits of young talents, bio of your favourites stars, everything about Afro Caribbean sport personalities based in Africa or abroad…
All the sports updates on our website. You can also follow us on Twitter and join us also on Facebook.
Thanks for your support and happy new year with Africa Top Sports.