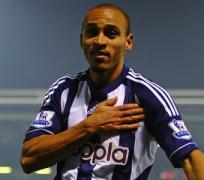 Peter Odemwingie has reacted angrily to being omitted from Nigeria's Africa Cup of Nations squad.
The West Bromwich Albion forward last played for Nigeria in February's goalless draw with Rwanda in the Cup of Nations qualifying.
"Every manager has got his own plans and tactics – if I don't figure in your plans, please be honest to tell me directly," Odemwingie told BBC Sport.
The 31-year-old played at the 2004, 2006, 2008 and 2010 Nations Cups.
"For 10 years I gave my all to the country as a player on the pitch, played for the nation and fans, not individuals," he pointed out.
"Because I speak out when things are not right, I guess some people are not comfortable with that openness".
Odemwingie believes he is being overlooked because he often speaks his mind about the national team.
"Because I speak out when things are not right, I guess some people are not just comfortable with that openness," he said.
"No one seeks preferential treatment, footballers are like the average people and not perfect individuals.
"There's a long history of problems between the players, coaches and the federation and if they are not sorted – the country will continue to struggle.
"Football means so much to Nigerians and the fans deserve success and not be fed with lies in the media."
However Odemwingie says he will not completely shut the door on his international career.
"It's sudden and to be honest I don't know, because the individuals change but the problems remain," Odemwingie said.
"If the chance to play for my country presents itself, then I will speak to my dad and those close to me – then we'll see.
"Personally, I've got to be playing regularly for my club, focus my energy on being a better person every day.
"At the moment, all I can do is to wish the team all the best in South Africa."
The Super Eagles begin their Nations Cup campaign against Burkina Faso on 21 January and then face Zambia and Ethiopia in Group C.