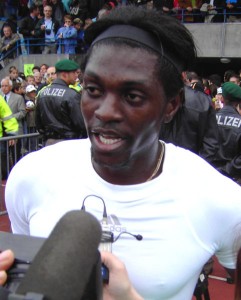 Tottenham Hotspur has beaten Reading in the English league (3-1). And the Togolese, Emmanuel Adebayor has started the year by scoring the second goal.
Goals: Dawson (10th) E. Adebayor (51st) C. Dempsey (79th) 90th
Goal for Reading: P. Pogrebnyak (5th)
Other encounters:
Manchester United and Manchester City attack both the years than they have done.
In the league, Manchester Utd crashed outside by 4 goals to 0, Wigan Athletic Goals: J. Hernandez (35th) R. Van Persie (43 ') J. Hernandez (63) R. Van Persie (88th).
Manchester City at its side was imperative against Stoke City (3-0). Goals P. Zabaleta (43rd) E. Dzeko (56th) S. Agüero (74th sp).