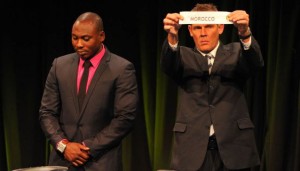 Stephen Keshi, coach of Nigeria's national football team, Super Eagles, has expressed satisfaction with the 1-1 draw played by the team against Catalonia at the Espanyol Stadium Tuesday. Catalonia (an autonomous community in Spain), paraded top Barcelona stars like Xavi and Carles Puyol, scored first and led 1-0 at the interval.
But Nigeria drew level in the 53rd minute.
In an interview published in the local media, Keshi commended the Eagles for playing to instructions.
'The purpose of this friendly was to try out some formations and tactics and not to win at all cost, but knowing the pedigree and quality of our opponents…the boys gave their all and I mustcommend  them for this and also Nigerians for their prayers,' he said.
The match is part of Nigeria's preparations for the 2013 Africa Cup of Nations, to be played in South Africa 19 Jan-10 Feb.
The Super Eagles are currently training in Faro, Portugal, for the tournament.
After the training, Keshi will reduce his 32-man preliminary squad to 23. CAF has set 9 Jan as deadline for teams to submit their final list of players for the tournament.
Nigeria is in the same group with defending champion Zambia, Burkina Faso and Ethiopia in the first round of the continental football showpiece
Nigeria is seeking its first Nations Cup title since 1994, when it clinched the trophy in Tunisia.