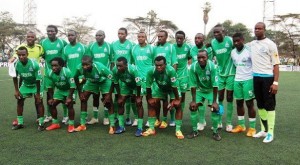 Two players Ugandan defender Israel Muge and Brazilian Giovanna Rodriquez are the only missing players in the Gor Mahia new signing list.
Five other new signings led by another Ugandan import Abbey Kunkurunmi have agreed terms with the club and all is set for the pre-season training. The rest are Goalkeeper Zachary Onyango, David Otieno, Obadiah Ndege, and Paul Mungai Kiongera.
The duo are yet to arrive in the country and sign paper work as the team begins pre season training.The team assembles at the Nairobi City Stadium tomorrow (Thursday) after a one month break since the Kenya premier League(KPL) season ended.
Also missing in action is Croatian born Coach Zdravko Logarusic who is expected to jet in Nairobi by January 12 to take charge of the team.
Club deputy secretary general Ronald Ngala confident they have recruited the best talent in the market and were just waiting for Ugandan defender Israel Muge and the Brazilian to put pen to paper once they land in the country.
Ngala averred that they have agreed eighty percent of the terms with Brazilian import Giovanna Rodriguez who was to jet in the country on Wednesday afternoon to pen the deal but could now delay after he missed his flight.
''The Brazilian player could not arrive on time as earlier planned. He told us that he missed his flight and could be joining us soon once he gets another alternative flight to Nairobi. We are hoping he will link up with us before the week ends" Observed Ngala.
According to Ngala, the Brazilian attacking midfielder is coming on a free transfer after his contract with his former club expired.
''He is coming, he has been in touch with us and all the signings have his blessings.'' He said.