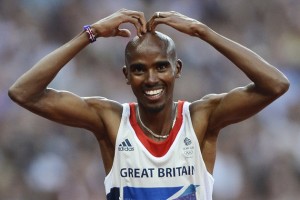 There are those who have only cure Olympics. Real star after the London Olympics this summer, Mo Farah is not that known in fact, despite his two gold medals in the 5,000 and 10,000 m.
The British athlete of Somalian origin had trouble with U.S. customs while trying to reach Portland, Oregon, to celebrate Christmas with family.
"I could not believe it," says Farah to Sun. "Because of my background in Somalia; I am haunted with questions whenever I'm dealing with U.S. Customs. This time I had my medals to show who I am, but they did not want to know, "he adds. This is not the first time he faced such a situation. Mo Farah says:
"My wife and I were in Portland last year with a tourist visa. So we had to leave and return as residents. So we went to Toronto (Canada ed) for a few days before returning. But when we were there, we received a letter stating that we were subject to an investigation by the Anti-Terrorism and we had to stay outside the U.S. for 90 days. However, we only had the business for four days. "
It is finally an FBI agent who "saved" him.