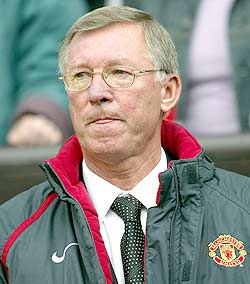 Manchester United manager Alex Ferguson confirmed on Friday that Wayne Rooney will miss a further two weeks with a knee problem.
Rooney has been absent since the 1-1 draw at Swansea due to the injury, which United initially expected to keep him out for a fortnight.
But he has still not been able to return to training and has now been ruled out of the trip to West Ham and the home game against Liverpool the following week.
Ferguson, who has struggled with defensive absences throughout the season, insists his squad can cope with Rooney being sidelined but is frustrated to be without the England striker at such a vital period.
He said: "Wayne Rooney is still injured. We're surprised it's longer than we thought. We expected him back training but he's not. It's nothing serious but if looks as if he'll out for another two weeks or so.
"He won't be fit for that I don't think. It's nothing serious, he just got clipped behind the knee, and we sent him for a scan but nothing really shows on the scan and he's still feeling it.
"Hopefully two weeks will sort it but it's a loss and although we're in great form you want your best players available for the big games coming up.
"We've got West Ham, Liverpool and Tottenham the week after that and the FA Cup hopefully after that so it's a tough period and you want your best squad available. We've not had that all season anyway so it's not as if we can't cope, we will."