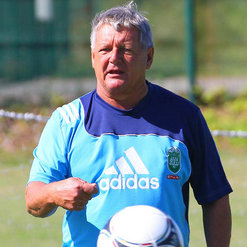 The Students confirmed on Friday they had parted ways with the Spaniard after he could only lead the heavily bolstered squad to ninth at the half-way stage of the PSL season.
The Clever Boys quickly moved to bring former Bafana Bafana coach Barker in as interim coach, and although AmaTuks tactician Steve admits he was shocked with Habas' decision to leave, he has backed 60-year-old Clive to do the business at Wits.
 "I was a bit surprised. I didn't expect the decision to get rid of the coach," Steve Barker said.
"It's a good appointment. Clive has got experience, he's been around and he is the type of person that can galvanise and motivate a team to play to their full potential.
 "It was a very interesting choice but at the end of the day, a good one."
He added: "It was surprising, I don't think five months in a job is enough time for a coach to impose his ideas and philosophies on the team.
 "Clive has his work cut out. He has a big task on his hands because Wits are very ambitious.
 "Wits have showed their intention that they want to match the big clubs in the market with the appointment of certain big players.
 "But if there is anybody that can get the best out of their players it is Clive Barker.
 "To come in and change things rapidly I think he is definitely the right person with his motivational skills and his ability to get the best out of the players that he has at his disposal."
Wits chief executive Jose Ferreira moved to further clarify the situation at the Johannesburg-based club, adding: "Antonio Lopez has requested that, due to personal and private reasons, he be released from his contract, due to expire at the end of the season.
 "We have acceded to his request and we are in the process of finalising the necessary paperwork in this regard."