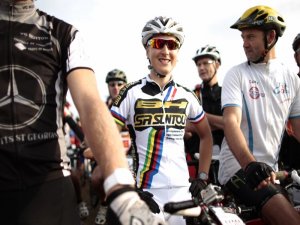 An ovation,then another, again and again… Everyone was clapping for her on the start line of the Rando Roc Powerade. All the anonymous riders in the peloton can now say that they raced alongside the best mountain biker in the world in 2012.
With the Olympics and World Championships under her belt, Julie Bresset was the big name of ladies' MTB this summer.
She has raced at the Roc d'Azur since her junior years
"I stepped onto my first national podium here", she said; so there is no way she is going to miss the event in the Var. But her perspective has obviously changed.
"When I used to come here, what I wanted was to get autographs and posters of my idols, such as Julien Absalon", she explained "This time round it was my turn to sign a lot of them. I like this. It makes people happy, so it's great. Since I started to win, I've discovered a new world, with all these interviews with the media and appearances on TV sets, but I'm not going to change. I'm surrounded by great people and there's no way I'm not going to remain a down-to-earth girl."

She is the new ambassador of this discipline. It is a role she relishes and an outstanding example to follow.