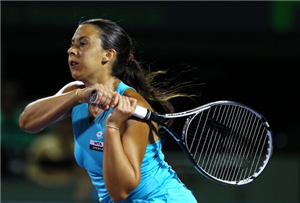 Marion Bartoli and Li Na battled through their second round matches at the Shenzhen Longgang Gemdale Open on Wednesday, fending off a pair of feisty opponents in tight two-setters to complete the quarterfinal line-up at the International-level tournament.
The No.2-seeded Bartoli had the tougher day at the office, grinding out a 58-minute first set and, after a mid-second set lapse, eventually closing out Swiss qualifier Stefanie Voegele, 75 64.
"I had a good patch going from 4-5 to 75-20, but I kind of let her get back into it a little bit from there," Bartoli said.
"At the start of the season you kind of have more ups and downs because of the lack of matches. You've been training, but you haven't had any tournaments – but that's something you expect".
"Stefanie played very well today though. I think she was playing with some confidence. Obviously when lower-ranked players play players higher-ranked than them, they come out firing with absolutely nothing to lose, and that's usually when they play their best. I knew it was going to be a difficult match."
Next up for Bartoli is the No.5 seed, Klara Zakopalova.
"Zakopalova plays very flat and very hard. If she's having a great day she can beat anyone – we all saw her giving Maria Sharapova a really hard time at the French Open. It'll be a tough match, but it's great for me to have some tough matches with the Australian Open coming up." Bartoli said
If she reaches the final in Shenzhen this week, she'll move from No.11 back to No.10.