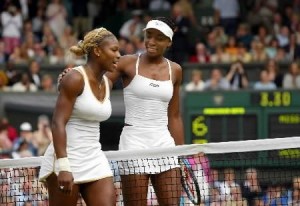 The best pair of women's tennis is not unbeatable, that we know.
Venus and Serena, women's doubles Olympic champions, winners of Wimbledon … more than 30 Grand Slams between them (including 13 doubles) can lose … against you!
Imagine yourself at this infernal doublet for a game. Lost before me would you.
But no! Everyone can have his moment of glory against the Williams sisters in table tennis! Venus and Serena accepted to loose for Apple and iPhone5.
We mate the video before you realize your dream of champion …
[youtube]http://www.youtube.com/watch?v=Rpg0sQgIhz0[/youtube]
Read also:
http://en.africatopsports.com/2012/12/30/tennis-venus-williams-helps-usa-down-south-africa/