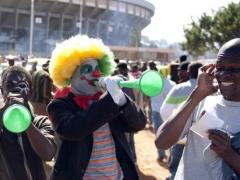 Zimbabwe may be forced to withdraw from the 2014 World Cup qualifying competition as the national football association has no money for a fixture in Egypt during March, a senior official told AFP on Thursday.
"There is no money to pay for travel expenses and other incidentals," said Zimbabwe Football Association (Zifa) vice-president Ndumiso Gumede.
"We have decided not to engage in any international matches unless the government chips in with financial assistance."
The football association is saddled with a $4 million (three million euro) debt in unpaid accommodation, transport and other bills that accumulated over several years and has been running on handouts from its president, Cuthbert Dube, and diamond firm Mbada Diamonds.
FIFA development officer for southern Africa Ashford Mamelodi, of Botswana, and a financial consultant met Zifa officials and deplored the state of the association's coffers.
Gumede could not give details of the meetings.
"I did not attend the meetings so I am not in a position to give you any details," he said.
After losing at home to Guinea and drawing in Mozambique, Zimbabwe is due to play Egypt late March in the third series of World Cup qualifiers.
Zimbabwean football has been tainted for several years by a match-fixing scandal in which former chief executive Henrietta Rushwaya sent the national team to play unsanctioned friendlies in Thailand and Malaysia and an Asian betting syndicate allegedly fixed the results.