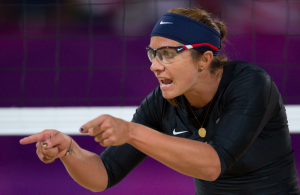 May-Treanor, 35 won her third straight Olympic gold medal with partner Kerri Walsh Jennings in London in 2012, making it through the competition with only one lost set.
In the final, the duo defeated compatriots Jennifer Kessy and April Ross 21-16, 21-16 in 36 minutes at Horse Guards Parade.
"I still feel like somebody pinch me that this just happened," May-Treanor said immediately following the gold medal victory. "We've been walking around the stadium saying it feels like an out-of-body experience."This was about the experience, the friendship, the journey and volleyball was just a small part of it."

May-Treanor led all Olympic beach volleyball players in digs in London with 107 on 225 attempts (15 sets) for a .48 success percentage. She was second among all players in scoring with 125 points on 120 kills, one block and four aces.
May-Treanor and Walsh also won one 2012 FIVB Grand Slam in Gstaad, Switzerland and finished second at the FIVB Grand Slam in Moscow.
The team finished the season ranked 11th on the FIVB World Tour after struggling in some of the early tournaments of 2012, including ninth-place finishes in Beijing and Shanghai. May-Treanor and Walsh credit sports psychologist Michael Gervais with helping them get back in sync.
 "It's important that we're all on the same page. It's been a process," May-Treanor said.
The FIVB also named May-Treanor its Most Inspirational Player of 2012, an honour she shared with Walsh Jennings.
May-Treanor, who is married to professional baseball player Matt Treanor, has not competed in beach volleyball since the Olympic Games and has said in interviews that she is retiring to coach volleyball and start a family.