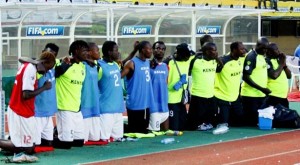 Kenya and Korean football associations will work together in various technical programmes including the possibility of the National team harambee Stars holding a training camp and an international friendly in Korea ahead of the forthcoming World cup Qualifiers.
The high profile meeting unanimously decided that the Korean government will be hosting the World Youth Soccer Congress in mid May this year and Kenya plus two African Countries will be sending a youth representative for the congress.
The Korean delegation appealed to the Kenya Federation Chairman to assist the Korean delegation in lobbying the regional African football countries in popularizing the congress during the forthcoming CAF congress.
The meeting was held at the Football Kenya Federation (FKF) secretariat in Nairobi on Thursday morning .The Federation hosted a strong delegation from the Republic of Korea who paid a courtesy visit to the National Chairman Sam Nyamweya.
The visiting delegation which included five Members of Parliament was led by Korean Ambassador to Kenya H. E. Chan Woo Kim.
Former Korean International player Choi Jae sung currently a sitting member of the Korean Parliament together with his parliamentary colleagues, Kim Hack Yong, Kim Sun Tae, Hong Younpyo.
"We are very happy to note that Kenyan football has now moved to greater heights after the election of the current office and that is why the Korean government is willing to accord assistance to the association, We shall continue with this cooperation as we aim to develop the game " added H.E. Chan Woo Kim the Korean Ambassador.
Sam Nyamweya on behalf of the federation sincerely thanked the Korean delegation for honoring FKF with this rare visit and assured them that Kenya will contribute towards the success of the forthcoming Congress.
"We feel deeply humbled by your visit and hope that our new found relations will continue "added Nyamweya.
FKF was represented during the meeting by NEC members, Robert Asembo the Vice Chairman, Hussein Terry in Charge of Youth Football,  Tom Onyango Alila in charge of Futsal as well as  Michael Esakwa the Secretary General.