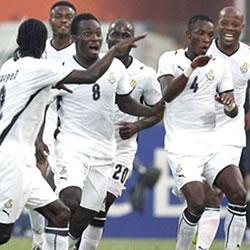 The minister of youth and sport of Ghana has explained the rational behind his outfits decision to cut down on the funding for the Ghana national team as they get ready for the African Nations Cup.
Clement Kofi Humado, says key to the reasons why $8 million the Ghana FA wanted was not given was the timing of the 2013 African Cup.
"Usually, the African Cup of Nations is held every two years but this time we are having one back to back, which is putting tremendous strain on the government," he said.
Supersport.com has previously reported that $4 million, representing half of the Ghana FA's proposed amount, has been given for the campaign. The minister further went on to ask for understanding from all stakeholders.
"You know we have only just finished an election too. At this juncture we will ask for the national team and players and everyone to sacrifice a bit for Ghana," he said.
He was speaking at the seat of government on Thursday morning when the national team met the President of Ghana to formally bid him farewell before leaving for Abu Dhabi.
The minister's remarks go a long way to corroborate an earlier report from supersport.com that the FA was in advanced talks with other agencies to get financial top ups for the campaign.
Read also http://en.africatopsports.com/2013/01/03/afcon-2013-gyan-under-pressure/