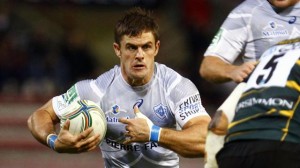 The Scrumhalf South African of Castres, Rory Kockott, began a tussle with his club.
On vacation for a few days in South Africa, the best director in the Top 14 (207 points), exempt from the match against Grenoble on Saturday, has asked the management of Castres Olympique to be released from his last contract year in 2013 -2014.
Kockott made of this requirement the condition of getting back to the rest of the season again. He even  told RMC that he could extend his stay in the country if he does not find agreement. Clearly determined, the 26-year player is even planning to evolve with a South African club.
Arrived in Castres in 2011, the scrumhalf expressed his desire to leave the team this summer. He  could in case of separation with Castre, he could join his coaches, Laurent Labit and Laurent Travers at Racing Metro.
This event also would open him the doors of the Springboks (South African national team).