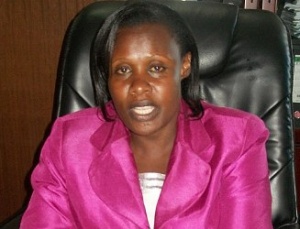 Following a directive by the minister of Education and Sports Hon. Jessica Alupo that by January 31st, 2013 the country should have only one league, she has come out and clearly stated that the directive should not be described as government interference but intervention.
In an exclusive interview with The Daily Monitor, Alupo said that both factions (FUFA and USL) were given enough time to settle their issues amicably and insisted that government's directive comes as intervention in case the two fail to reach agreement insisting that as of now, both are given a benefit of doubt. "It's not government interference but intervention", the retired major told Daily Monitor. "This case is very delicate and has been there for long thus has reached its maturity", she continued.
It should be noted that on December 13, 2012, the Minister met FUFA, the Uganda Super League (USL), sponsors Uganda Breweries Limited (UBL) and SuperSport in an effort to redirect the country's worrying football trend. The minister henceforth directed that by January 31, 2013, the FUFA-backed Super League (FSL) – and the USL go reason together and come back with one topflight league.
Both leagues have continued to go on with their business and it's more likely that nothing materialistic will have been reached by the set date if the current impasse is not resolved by the two parties as it appears. Asked why the ministry does not order both (FSL and USL) to stop as resolutions for a single league are sought, she said; "What I know is that solving problems, you've got to take one step at a time. I wouldn't want a scenario where it has already been quoted that the Major is using military orders to say this and that".
She however warned that in case of no resolution by January 31st, she will not hesitate to take action.
"Where military orders apply of course I wouldn't hesitate to issue them. If they come back by 31st of January, assuming they have not agreed to one league, that's when another course of action will be taken".

It remains to be seen whether the two parties will bury their hatchet and work together for the good of football.