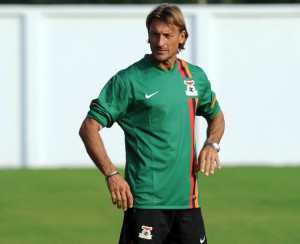 Not much was known about Herve Renard until he led little fancied Zambia to the 2012 Africa Cup of Nations victory in Libreville, Gabon. The French-born coach spoke with Kunle Adewole on Chipolopolo's chances at South Africa 2013 and other issues…
Gabon is one city an average Zambian football fan cannot forget in a hurry. It was here that the East African country lost a generation of players in an air disaster on April 27, 1993.
The Zambian Air Force plane conveying them ditched into the Atlantic Ocean about 500 metres offshore from Libreville killing all 25 passengers and five crew members on their way to Dakar, Senegal for a FIFA World Cup qualifier game against the Taranga Lions.
However, 19 years later, Renard brought succour to the faces of Zambian fans by leading little fancied Chipolopolo side to win the 2012 Nations Cup, ironically, in Libreville.
"We wanted absolutely to come back to Gabon 19 years after the tragedy. The best thing to honour their memories is to win the final and to make all the country happy. There is not one game in Zambia without talk of the memory of the team of 1993. I heard it was maybe the best team Zambia ever had," he said.
Asked if he is under pressure ahead of the 2013 Nations Cup in South Africa, Renard admitted that there was always pressure when a coach leads a team to a competition, especially a competition like the Nations Cup.
"There is always the pressure to get the desired result but I think all the coaches coming to the tournament will be under pressure to perform. At the 2010 edition, the semifinal was our target but unfortunately we lost narrowly in the quarterfinals to Nigeria on penalty shootout.
"In 2012, our wish was to qualify for the final so as to visit the graveyard site of the players of those that lost their lives in a plane crash in 1993 and in South Africa we also hope to do well. We believe in ourselves and our strength lies in the team spirit," he said.
While most African countries rely mostly on the ability of their players abroad in most competitions, Renard's machinery are a bunch of mostly home-based players. On how he was able to inspire this bunch of players to victory in Gabon, he said: "A lot of credit must go to the Football Federation President, Kalusha Bualya, who believed in me and allowed me full control of the team.
"Also, I have good and able assistants that are very cooperative and my players have been together and are very united. Even if you parade the best players in a team and there is no unity there is little you can achieve. There is a great team spirit among my players and they are always ready to play for each other."
Before the final against Cote d'Ivoire do you ever think your team can come out victorious considering the fact that the Elephants have a lot of big names in their team? Kunle Adewole asked.
"We have a lot of respect for countries like Ghana, Nigeria and Cote d'Ivoire because a lot of their players play in big European countries and we are proud of them for representing Africa very well but when we play these countries it is a different ball game. We are always motivated to play them without any fear.
"Our players also boast of abundant skill, but team spirit is our greatest motivation with which we make the difference. Zambia was not expected to beat mighty Côte d'Ivoire in the final, but after surprising Ghana in the semi finals we were inspired to another upset by strong emotional ties to Libreville.
"We were not the favourites but it was very difficult to beat us. We knew we were playing against a very good team, a strong team, but sometimes football is psychology, the mental state, and our mental state is very high," the French man noted.
On how much they were motivated with their visit to the burial place of their dead heroes that lost their live in plane crash? Adewole asked.
"The visit was with mixed feelings. It was both inspiring and emotional. However, it was our target when we were preparing for the tournament to get to play in Libreville and the only way to get there was to qualify for the final. Before the Africa Cup, we were in camp in Johannesburg talking about the only possibility to go back to Gabon was the final.  We have a focus to play in Libreville and it was not shaken and we will live to cherish the moment. It was a fantastic Nations Cup for us."
Zambia will be campaigning in Group C, comprising Ethiopia, Bukina Faso and Nigeria, which narrowly defeated the Chipolopolo in the 2010 edition in Angola and also won in a friendly game between the two countries weeks before the last edition's finals.
On how well prepared is Renard and his side to ward off Nigeria's opposition.  "No doubt Nigeria is the best team in the group, though they failed to qualify for the 2012 edition but since Stephen Keshi took over the team, it has improved a lot. He has been able to blend the home-based players with their foreign counterpart and we know they can make the difference in any competition. Players like Victor Moses is doing very well with Chelsea, so we are aware Nigeria will always be difficult but we are not in any way afraid of the Super Eagles."
Continuing he said: "It will be a tough group with Nigeria as favourite but we can still emerge top of the group. In 2010, we were in the same group with Nigeria and we still came out tops. We can achieve still the same feat, even though it will be tough. In 2012, Senegal was the favourite in our group but we came out tops. However, our target is to qualify out of the group."
In spite of the array of stars in African football, Renard rates Ghanaian Michael Essien as his best African player.
"I like his team spirit and attitude. He is very professional and he is a fantastic player. And there other African players that can also make the difference like Yaya Youre and Didier Drogba. There is also Victor Moses, Mikel Obi and Dickson Etuhu, who are very good."
At the mention of names like Nwankwo Kanu and Austin Okocha by this reporter, Renard said: "These are the greatest and the greatest and the greatest of them all (laughter). I was small when they were playing. But I think Obi Mikel had a fantastic season in 2012, and even went on to win the Champions League. I like his job in front of the defence. So I think the Super Eagles have a strong team and Nigerians should have nothing to fear about."
Renard was recently named sixth best French coach of 2012 by popular France magazine 'France Football'.
Fresh from picking up the Confederation for African Football Coach-of-the-Year award after successfully leading Zambia to winning its Africa Cup title, Renard has continued getting recognition everywhere.
His latest recognition follows another one made by the World Soccer magazine which rated him as the sixth best coach in the world.
He however said what mattered more to him was Zambia being voted the team of the year and not his personal glorification.
"It's not important what I win, what is important is what Zambia wins. Zambia was voted team of the year in 2012 and that is what is important."