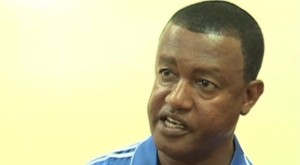 Ethiopian national soccer team ahead, coach Seyoum Kebede has high hopes his youthful team have a bright future and above all, they are destine to create a massive impact in the Orange Africa cup of Nations slated in South Africa.
Ethiopia will be part of the 16 teams taking part in the 2013 Africa Cup of Nations championships that go down in South Africa.
The last time they qualified for the Africa Cup of Nations was in 1982. Despite winning the Cecafa Senior Challenge Cup four times, they have found it hard to penetrate into Africa's biggest soccer bonanza, the Africa Cup of Nations.
However, after beating Sudan 2-0 at home, they booked a place in the 2013 Africa Cup of Nations set to be played in South Africa.
Ethiopia used the Cecafa Senior Challenge Cup as a preparation ground for the championship as they are pooled in a tough group that has defending champions Zambia, Burkina Faso and Nigeria.
Coach Seyum Kabedde is upbeat that the Antelopes can make a positive mark in the Africa Cup of Nations and he has set a goal of at least reaching the quarterfinals of the 16-nation tournament.
"We look like the underdogs in our group because all these teams are very experienced unlike us who have been out of the tournament for decades. Our team is mostly made up of locally based players and we only have one pro who plays in Egypt. Take Zambia and Nigeria for example; almost 80 per cent of their players play in European leagues," noted Kabedde.
"We aim in the least to qualify to the second round or quarter finals. I am confident that we can make it because our team has a lot of self-belief. This is a golden chance to prove our worth on the African continent," coach Kabedde adds.
He says almost four players will be picked from the Cecafas squad to join the Afcon team. "This tournament was very important for us".
"We are using these games to prepare our players for bigger ambitions as well as giving the young ones game-situation experience. I am very happy with my players despite the fact that we exited in the quarters. Four or five players from this team will join the senior team for Afcon," he added. On their preparations before the games in January, the coach says, "We have to play a few friendly matches probably one international one to get fully prepared for the tournament".
The Ethiopia side were eliminated in the quarter finals of the just ending Cecafa senior Challenge Cup 2-0 by Uganda Cranes in a match they enjoyed better ball possession than their hosts especially in the second half.
Ethiopia started the Cecafa Challenge Cup in a winning note after edging out South Sudan 1-0.They lost 1-0 to Uganda Cranes before succumbing to a 3-1 loss to Kenya's Harambee Stars.
Read also http://en.africatopsports.com/2012/12/14/afcon-2013-ethiopia-begins-the-preparations/