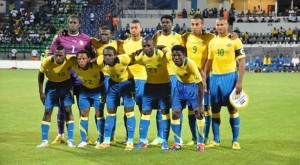 Gabon coach, Paolo Duarte has made public a list of 26 players for their friendly match against Tunisia in Abu Dabi. Billed for January 10, the derby is in preparation for the 2014 world cup qualifiers.
Gabon squad 
Goalkeepers: Stéphane Bitseki, Yann Bidonga and Nick Moundounga.
Defenders: Emmanuel Ndong Mba, Edmond Mouélé, Aron Appindangoye, Brou Apanga, Alpha Angué, Jean René Mba, Martin Essono and Muller Dinda.
Midfielders: Kanga Guélor, Paul Kessany, Didier Ibrahim Ndong, Cédrick Boussoughou, Samson Mbingui, Paupol Kinedé, Jaduve Mboumba, Romaric Rogombé and Franck Engonga.
Forwards: Riche Mvelé Ebalé, Daniel Cousin, Johan Lengoualama, Dimitri Edou Zué, Stephane Nguema Ondo, and Gilles Mbang Ondo.