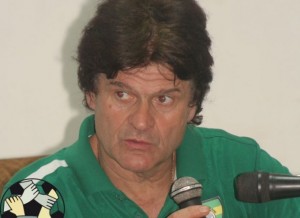 Another financial story in the Hawks nest. This time, it is the coach who leads the revolt.
Didier Six claims to the Togolese the payment of his salary for the month of December.
A situation that has persisted for a long time and that would have implications for the management of Niger- Togo (3-1) friendly match played last Saturday in Niamey.
The French technician, according to information, would not be in the best frame to ten days before the opening of Afcon 2013. It is this situation that has missed the start of the team in Accra on Monday. The situation should find solution on Tuesday.
Besides his case, Didier Six also requires treatment for his "assistant" Alain Haap. The latter worked out with the former Blue since his inauguration but is not included in the specifications of the Togolese government. It is the local coach Tchakala Tchanilé who is the real substitute of Six.
Meanwhile, the question of the participation premium of the players in the competition is not yet resolved. But the Hawks prefer to focus on their preparation according to players who have responded. But until when?
Read also:
http://en.africatopsports.com/2012/12/21/afcon2013-didier-six-togo-will-be-ready-for-the-competition/