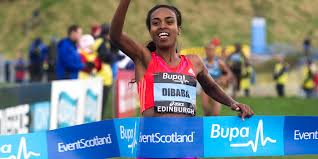 A swift pace in the closing stages of the race propelled Ethiopian world 1500m runner Genzebe Dibaba (above) to victory in the Women's International three kilometer race at the IAAF Permit Meeting in Edinburgh Scotland in the United Kingdom on Sunday.
Ethiopian World Indoor 1500m champion Genzebe Dibaba prevailed in the Women's International 3 km race at the IAAF Cross Country Permit meeting in Edinburgh on Saturday.
She was followed by her compatriot and Olympic 5000 m champion Meseret Defar, Kenyan Linet Masai, Ethiopia Sofia Assefa and Kenyan Vivian Cheruiyot in that order.
Leading results
1 Genzebe Dibaba (Ethiopia) 9:46
2 Meseret Defar (Ethiopia) 9:51
3 Linet Masai (Kenya) 9:55
4 Sofia Assefa (Ethiopia) 9:56
5 Vivian Cheruiyot (Kenya) 10:05
6 Emily Stewart (Britain) 10:05
7 Lisa Dobriskey (Britain) 10:07
8 Stevie Stockton (Britain) 10:19
9 Laura Muir (Britain) 10:21; 10 Montana Jones (Britain) 10:23