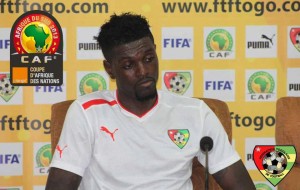 You were informed about it yesterday! Emmanuel Adebayor met Faure Gnassingbe in Accra to discuss about his return to the national team. According to our information, the player has not said yes yet.
The Tottenham striker has asked 24h reflection to the Togolese Head of State. This is also the reason of  his coming Tuesday in Lome.
Our sources confirm that the Togolese football star is expected in the Togolese capital at 11am GMT (Gnassingbé Eyadema airport) by a special flight chartered by the President of the Republic. A new hearing is scheduled with Faure Gnassingbé to consume the return to the national team.
Emmanuel Adebayor is getting more and more closer to his participation in Afcon 2013 with the Togolese Hawks. A group of which he is the captain. After the meeting with the President of the Republic, "Ade" should take the path of workouts this time with the entire workforce in Accra, for the last stage of Togo before flying for the country of Nelson Mendela.
You get to notice that Togo of emmanuel Adebayor has to face Ivory Coast, Algeria and Tunisia in Group D in Afcon 2013.
Read also:
http://en.africatopsports.com/2013/01/07/afcon-2013-adebayor-going-to-african-nations-cup/