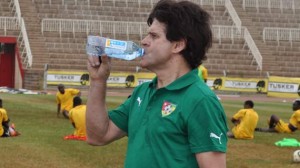 Scheduled for last Monday, it was finally on this Tuesday morning that the Hawks of Togo took the lead to Accra, Ghana for their final training camp before flying to South Africa.
Dare Nibombé and his teammates are currently in the Ghanaian capital.
As announced in Africa Top Sports on Monday, Didier Six calls for salary arrears and has not left with his team in the morning. According to our informations the French technician finally joins his players tonight in Accra.
However, our source did not confirm if he has been successful in his claims. Six wanted also a contract in due form to his assistant Alain Harp.
Meanwhile, Emmanuel Adebayor, who had put hold  on his participation in the competition came back to best feelings.
Read also:
http://en.africatopsports.com/2013/01/07/afcon-2013-adebayor-going-to-african-nations-cup/