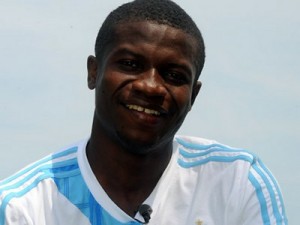 Is this the frustration of not being selected in the 23 Hawks of Togo for Afcon? Senah Mango does not hide his bitterness, but primarily due to denounce the conditions in which the withdrawal took place. The president of the FTF (Togolese Football Federation), Gabriel Améyi takes for his grade.
The Marseille defender accuses the boss of FTF of scheming and making cheating in the list for Afcon 2013. Africa Top Sports met a very bitter Mango Senah and reassembled at the airport Gnassingbe Eyadema, Lome before he embarks on a return to Marseille. Reading.
How do you feel when you miss so little Afcon?
For a player who wants to go the Afcon, it is not easy. When at the last minute, we make shenanigans and it becomes annoying. If the player was not in shape and that the coach does not retain him, he can understand it. But if he sees that it is cheating and he is excluded in order to include players who do not deserve it, it is very enfuriating.
When you talk about cheating and scheming, who is referred to in your remarks?
The coach told me that I was in the 23 when he made his list. But at the last minute, the President sent me out. I know because I spoke with Didier Six. He told me "the list that is published is not mine." I went to see the President Améyi to ask him why he put me out of the list, he said: "It is the doctor who told me that you're hurt." I was shocked. Myself because I did not know I was hurt (laughs). If I was, I do not think I'll be there with the group. In Marseille, they did not even want me to go to the selection. Because the last time I was injured in a friendly match (against Morocco), none of the federation called me to see how I was. I struggled. In fact when I got the invitation for Afcon, Elie Baup (Marseille coach) asked me not to go there because the federation took them for idiots. They could not answer a fax from my club after my injury. But I finally convinced Baup to let me go because it was my country and I wanted to play Afcon. But then I am much reassembled. It is not the mere fact of not being in the list but the way things happened, frustrated me even more. This is the willful decision of Gabriel Améyi to send me out of the list and I do not understand why.
You have a grudge against Gabriel Améyi!
I rage. Because I'm not used to talking to the media. I am very discreet and people blame me for that matter. If today I unveil this, it's because Gabriel Améyi has been ruthless towards me, and this shoud not be repeated. He did this against me but I do not want him to rehearse it with other players. Do not remove players to put friends for business. If we want our football to grow up, we should stop these kinds of practices. When Emmanuel Adebayor says, people do not understand but he told the truth. We should not bring people into the selection to make money on their backs. It is time that these kinds of things cease around the Togolese football.