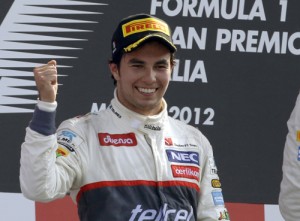 Sergio Pérez says he will need to change his approach to Grand Prix weekends as a McLaren driver, explaining that he understands the higher expectations of his sought-after seat. The 22-year-old, who spent his first two seasons with Sauber, has set his sights on fighting for the World Championship with the outfit in 2013.
"It definitely changes," Pérez said of his overall approach to racing. "At McLaren, you are not here to just fight for the points. You are here to fight for victories at every single race.
"Your race preparation has to be 100 percent. It has to be 100 percent for all 20 races because at every race you have the opportunity to win. Then you can fight for the championship."
Pérez is also expecting to enjoy a positive working relationship with new team-mate Jenson Button, admitting that despite his ambition to beat the 2009 World Champion on-track, there will be 'a lot to learn' from him throughout the 2013 campaign.
"I have got a lot to learn from him," Pérez explained of his counterpart. "His experience, his knowledge, it will all be useful for me. I am really looking forward to working with a World Champion, a great guy. The whole team has so much respect for him.
"I am looking forward to building my relationship with him, to help the team become the best and to have the best car possible. I think we'll have a good relationship."