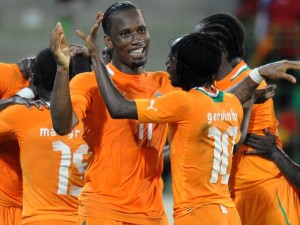 Ivory Coast will play his only match on Monday in preparation for the scheduled 2013 Afcon in South Africa. The Elephants face this afternoon the Pharaohs of Egypt on Mohamed Bin Zayed Stadium in Abu Dhabi.
The group of Sabri Lamouchi is a surely favorite of the competition with an arsenal of great players including captain Didier Drogba. The Ivorian team which began its preparation since January 6 in Abu Dhabi, will arrive in Rustenburg, South Africa on January 16.
The President of the FIF (Ivorian Football Federation), Augustin Sidy Diallo sent two emissaries to prepare for the coming of the unfortunate finalist in the last edition.
Ivory Coast will play its first match against Togo on January 22.