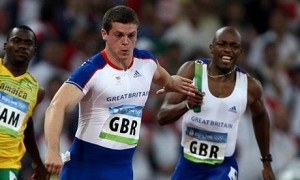 Former Olympic sprinter Craig Pickering may only have taken to the ice for the first time this week, but having impressed coaches he is set to make his debut for the British bobsleigh team at this weekend's World Cup in Koenigssee, Germany.
Pickering, who competed in the 100m and sprint relay at the Beijing Games four years ago, switched from athletics to bobsleigh in the hope of competing for Britain at the 2014 Winter Olympics in Sochi.
The 26-year-old, who only began training with the bobsleigh squad full time last month, missed out on the London 2012 Olympics because of back surgery and lost his UK Athletics funding in October.
Pickering's move follows the recent recruitment of gold-medallist Tianna Madison and two-time Olympic hurdler Lolo Jones to the US bobsleigh team's programme, and is not the first time a GB track and field athlete has made such a move.
Ex-sprinters Marcus Adam, Allyn Condon and Jason Gardener and decathlete Dean Mace also made the switch, as did former heptathlete Nicola Minichiello who went on to become bobsleigh world champion alongside former long jumper Gillian Cooke.