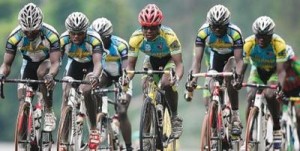 A team of six Kenyan Riders have jetted out of the country to compete at the forthcoming Tour of Gabon that begins on Monday.
The national team cyclists have promised a medal including posting a better record in the Gabon tour. The six selected cyclists are Paul Ngasike Agorir, Samwel Mwangi, Samwel Ekiru, Suleiman Waithuweka Kangangi, Benjamin Kipchumba Kogo and John Njoroge Muya.
The team has been in camp in Iten since December training using the roads to Kaptagat, Kabarnet, Kapsabet, Kitale and Eldoret including one session a week into and out of the Rift Valley region under head coach Simon Blake, an Australian.
More and enough training would be needed as Kenya would competete with a lot of nations across the world.
"Our greatest threat are the European teams but Kenya, and the rest of the African teams, will be keen to show cycling is constantly improving all over the continent," said Blake.
The coach already has a plan for his charges which is to be as efficient as possible early in the race and observe how other teams are doing.
"We will try to be strong in the last few days of the race but I can tell you it is hard to know how we will compare to other teams since fierce competition is expected," explained Blake.
The Kenyan Team will be training in Iten which has not been hitche and traffic has been a problem which makes it difficult for the rider to train well enough as doing this with vehicles could be fatal.
Read also:
http://en.africatopsports.com/2013/01/13/cycling-south-africa-series-in-summer/