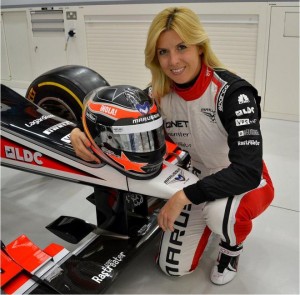 Racing driver María de Villota is the newest member of the Supreme Council of the Royal Spanish Automobile Federation, duly attending the first board meeting of the year in Madrid this week.
De Villota suffered serious injuries in a testing accident with the Marussia F1 team last year at Duxford Airfield, which resulted in the loss of her right eye as well as losing her sense of taste and smell.
But de Villota appeared in good spirits at the start of the New Year, and joked that an optimistic outlook was very much "standard equipment" for anyone in a potentially dangerous profession or sport such as F1.
"I have always been cheerful, vital and optimistic and that does not change," she told specialist motoring site CarAndDriverTheF1.com. "From my parents I learned what things cost and you have to fight for what you want. I have to admit that despite having been between life and death I feel good something not everyone can say after a serious accident!"
As well as her new role at the Royal Spanish Automobile Federation, de Villota is also working with the Carolina Ana Díez Mahou Foundation in Spain, a charity dedicated to helping those afflicted with mitochondrial neuromuscular disease.
"The same day that I was finally able to leave the hospital, the son of a cousin of mine died aged just three years old after suffering with mitochondrial neuromuscular disease," she explained. "I said I wanted to do something and I started working with patients and relatives of people with these rare diseases, which have neither a drug nor a cure."
De Villota said that she would also like to work with organisations on road safety initiatives in Spain
"I have a special sensitivity to traffic accidents," she pointed out with good humour. "I've made a small contribution in Vigo with local police, the DGT [Spanish Department for Transport] and a hospital for educating young people about the severity of some accidents."
Inevitably, the question of whether de Villota will ever be able to return to motor racing is never far from the 32-year-old's mind.
"I would love to, but at the moment it is very difficult," she admitted. "I want to know if I can still get behind at the wheel. When I do, I'm sure that things will have changed the references will be different and I will be less effective."