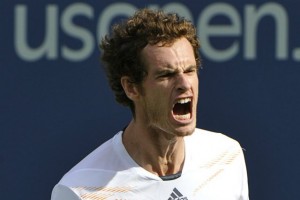 In his first Grand Slam match as a major winner, third-ranked Andy Murray opened his Australian Open campaign with a 6-3, 6-1, 6-3 win over Robin Haase of the Netherlands on Tuesday.
Asked what it felt like to play after his triumph at the U.S. Open, where he became the first British man since 1936 to win a major title, Murray said: "I can try and focus on the second part of my career now."
The 25-year-old Murray seemed more at ease and relaxed at Melbourne Park than he has been in previous trips.
"It was a good start, nice to win in straight sets," he said. "It was the hottest day we've had for a while so the court was playing much quicker."
After a record heat wave early last week, the last few days in Melbourne have been cool. The temperature was heading toward 84 degrees when Murray was on Rod Laver Arena.
It's been 12 months since Murray started working with eight-time major winner Ivan Lendl as coach, and he attributes much of the success in his breakthrough 2012 to the partnership.
It's relaxed "in front of the cameras, yeah," Murray joked. "Behind closed doors he works me very hard."
"We've had a very good relationship so far. He's very honest, very open. He doesn't lie to you, he tells you exactly how it is and that's exactly what I needed."
In early women's matches Tuesday, 42-year-old Kimiko Date-Krumm had a big upset 6-2, 6-0 win over No. 12-seeded Nadia Petrova of Russia and former No. 1-ranked Caroline Wozniacki won the last six games to beat Sabine Lisicki of Germany 2-6, 6-3, 6-3.
Former U.S. Open and French Open champion Svetlana Kuznetsova continued her comeback from a knee injury that kept her out of the U.S. Open, ending her run of 40 consecutive majors. Also, No. 14 Maria Kirilenko had a 6-4, 6-2 win over American Vania King, and China's Peng Shuai beat Canada's Rebecca Marino 6-3, 6-0.
Congestion on center court with Murray, Roger Federer and defending women's champion Victoria Azarenka all on Rod Laver Arena during the day session means Serena Williams was playing her first-round match at Hisense Arena against Romania's Edina Gallovits-Hall, who is ranked No. 110.
That's the same court where her older sister, Venus, opened with a straight sets in on Monday to move closer to a potential third-round match against No. 2 Maria Sharapova, who won her first match 6-0, 6-0 in 55 minutes.
Venus Williams missed the 2012 Australian Open. She is returning from a seven-month layoff because of Sjogren's syndrome, an illness that causes joint pain and fatigue.
"It's hard to play the first match in a major, first thing of the year, and that can be a lot of pressure," Williams said. "I did my best."
Novak Djokovic started his bid for a third consecutive Australian title on Monday with a 6-2, 6-4, 7-5 win over Paul-Henri Mathieu.
"Hello, everybody, it's great to be back," he told the big crowd after his first match at Melbourne Park since his epic five-set win over Rafael Nadal in last year's final. "I have great memories."
David Ferrer, who took the No. 4 seeding when fellow Spaniard Rafael Nadal withdrew because of illness and injury, had only a couple of hundred people watching in cavernous Hisense Arena on Day One at Melbourne Park. He opened with a 6-3, 6-4, 6-2 victory over Olivier Rochus of Belgium.
French Open finalist Sara Errani lost her first-round match 6-4, 6-4 to Carla Suarez Navarro. Errani, the No. 7 seed, had one of her best years on the tour in 2012, winning four events and improving her ranking from 45 at the end of 2011 to sixth at the end of last year.