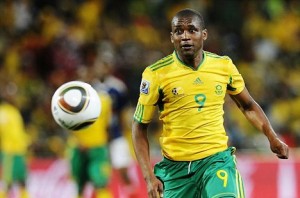 Following the previous booeing by supportetrs of Bafana Bafana striker Katlego Mphela, he says "it does not matter anymore" and doesn't care but all he thinks of is to bounce back after taking some critisizm from fans following the match against Norway on Tuesday at the Cape Town Stadium.
A rusty Mphela wasted three clear-cut opportunities against the Europeans and was jeered by supporters in Cape Town as Bafana lost 1-0. He, however, was not shaken by the crowd who wanted him off the pitch.
"I'm used to it now. It doesn't matter to me anymore. You just have to move on as a player. I can't blame all supporters, there are just a few who do that. I have to concentrate on the next game. That's what matters to me," Mphela said yesterday.
"The good thing is that I created chances for myself. For me the bigger picture is Cape Verde. Hopefully when that game comes I will be able to convert those opportunities."
He admits that criticizing a footballer is done in every football playing nation and would not let that hunt his career.
Read also:
http://en.africatopsports.com/2012/12/10/psl-pitso-glad-to-have-mphela-back/