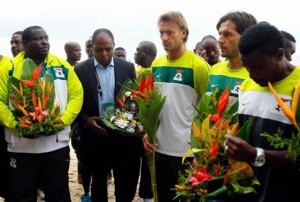 "We know that our fans want us to win all the time. We understand our great soccer heritage and the passion which the people have. But there are games which we play and go into not looking for wins at all costs but to give the players a systematic run which helps build towards the championship. We should not stress ourselves so much about training matches and their outcomes. We're preparing well and we are ready for the match," Mwanza said.
The Football Association of Zambia (FAZ) communications Manager,Erick Mwanza has encouraged fans to rally with Chipolopolo stressing that outcomes of training games should not disorient them.
FC Utrecht has joined his Chipolopolo colleagues on Saturday evening meanwhile he is a high rated person.
Jacob Mulenga striker who Dutch based on has also joined the African champions' Nations Cup preparatory camp in Johannesburg.
Mwanza revealed that after the success of the past weeks' training sessions and arrivals of Mulenga and Mayuka, Renard is now set to name his final 23 to defend Zambia's crown.
"Going into the next training matches against Morocco and Norway this week, we have every player available. Since we set our base at our Johannesburg 'home' for the final phase of training, we've had excellent sessions. The players have been working hard and are focused on the assignments which will get us ready for the championship when we begin our defence on 21 January," Mwanza said.

"We are pleased to announce that as we enter the final phase which is complimented by international training games, striker Jacob Mulenga joined camp on Saturday and Mayuka is flying in Sunday."
"We're happy that we don't have injury concerns and the team is enjoying a clean bill of health. We will be ready for the challenge of SA2013."
Read also:
 http://en.africatopsports.com/2013/01/08/afcon-2013-zambia-lose-for-a-third-time