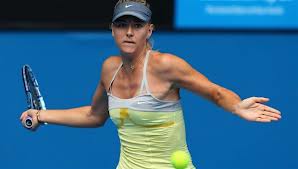 Maria Sharapova finished her first match of the year in 55 minutes Monday, cruising to a 6-0, 6-0 win over Olga Puchkova to start proceedings on center court at the Australian Open without showing any signs of trouble with her sore right shoulder.
The No. 2-ranked Sharapova, who lost the final to Victoria Azarenka here last year before going on to win the French Open, faced only two break points in the match and she saved both of those in the first game.
Then she went on a 12-game roll that earned her a second "double bagel" within a year.
Sharapova started her run to the French Open title with a 6-0, 6-0 wins over Alexandra Caduntu at Roland Garros last year. But she said the score line wasn't really relevant.
"If you win 7-6 in the third, you've still won the match," she said.
Sharapova withdrew from the Brisbane International earlier this month with an injured right collarbone, saying she wanted to concentrate on being fit for the season's first major.
Sharapova has a potential third-round match against Venus Williams, who needed just an hour for her opening 6-1, 6-0 win over Galina Voskoboeva of Kazakhstan.