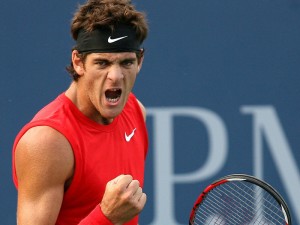 Gentle giant Juan Martin Del Potro has overcome he recent spate of injuries and now that he's healthy again he wants another Grand Slam title to go along with the 2009 US Open trophy.
"I'm here trying to do that, but it's not easy," Del Potro said yesterday after an easy win over qualifier Adrian Mannarino. "The last 33 Grand Slams win the same names, the same players. But I know how tough is win a Grand Slam. But I know the way to win a Grand Slam, also. So I'm trying to do that for this year. Could be my biggest challenge on this year, win another Grand Slam. But they are playing really good tennis, and it's not easy."
And even with challenger Rafael Nadal not in the field, the draw is still difficult Del Potro conceded.
"I think the favorites are the same even if Rafa is not here," he said. "If Rafa could be here would be a favorite for sure also. But Roger, Novak, Andy Murray, and other guys can be the favorites to win the tournament."
Del Potro has been a quarterfinalist two times at the Australian Open losing to Roger Federer both times in routine fashion. This year he's seeded to meet two-time finalist Andy Murray in a match that would be played next Wednesday.
The Argentine is the only player other than Roger Federer, Novak Djokovic, Murray and Nadal to win a Slam in the last 31 events.
Del Potro will play German Benjamin Becker in the second round on Thursday.