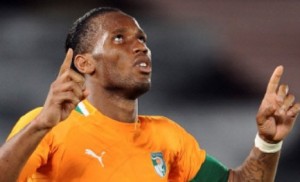 Didier Drogba has landed in South Africa for the Africa Cup of Nations claiming his Ivory Coast side will not suffer from the burden of favouritism.
The veteran of 91 caps and 59 goals has been named in a star-studded Les Elephants squad, including Manchester City's Yaya Toure, Newcastle's Cheick Tiote and Arsenal's Gervinho.
But the 34-year-old Shanghai Shenhua striker believes Ivory Coast still have plenty of time to deliver trophies despite finishing runner-up in 2006 and 2012.
Ivory Coast are in Group D with Tunisia, Algeria and Togo and Drogba drew comparisons between his side and the Netherlands, who always boast talent but have often failed to deliver silverware.
"(There) is no pressure at all. Because everybody has been talking in previous years about the (Netherlands) team," Drogba said.
"People said they were the best team but they didn't win any tournaments. So I think we still have time."
Drogba insisted that even with the curtain slowly falling on his glittering international career, the squad has huge room for success.
"For me to win it today (this tournament) or tomorrow (later tournaments) if I am not there I will still (feel like I) have won it because I have been part of this team for 10 years," he said.
"We have built something with this team. If it's not me it is going to be Yaya (Toure) or Gervinho or (Abdul) Razak, who's the youngest in our team. 
"So I'm not thinking about myself, I am thinking about the team and the team spirit. It's a team game so if it's not today it will be tomorrow and I will be supporting them."