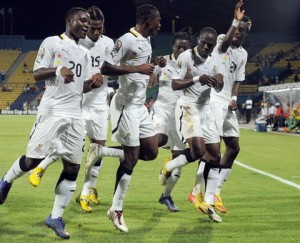 Ghana will begin the New Year and the 2013 Africa Cup of Nations as the continent's fourth-best ranked team.
In the world ranking, the Black Stars are now positioned at 26th from the previous 30th position.
Only 46 matches were included in the Ranking since the last ranking in December, says Fifa.
The Black Stars are 4th in the African placements – just like they finished the previous year – in the first edition of the FIFA/Coca-Cola World Ranking released on Thursday.
The Black Stars now have an accumulated point build up of 788,having moved up four places, thus 11 more points from the previous ranking and they are behind Ivory Coast, Algeria and Mali in that order.
Spain starts the year as the number one side ahead of Germany and Argentina in the World champions.
18 of the games took place in 2012, with the remaining 28 being played in the first half of January 2013.
Read also:
http://en.africatopsports.com/2013/01/17/afcon-2013-black-stars-need-cohesion-dogo-moro