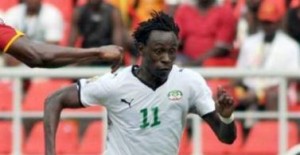 Mission accomplished for Jonathan Pitroipa.
The Stallion joined his teammates after allowing Rennes to qualify for the final of the League Cup.
Exceptionally released to compete with his club Rennes one of the posters in the semi-finals of the League Cup against Montpellier (2-0),  the midfielder of Burkina Faso is expected in South Africa for Afcon 2013.
The winger arrived on Thursday in Nelspruit in the group of Coach Paul Put. The Stallions are in Group C along with Ethiopia, Nigeria and Zambia, the defending champion.