South Africa who hosted the 2010 World Cup is again the host for the 2013 African showpiece. The South African National team, Bafana Bafana has refused any advances for bonuses in the Afcon.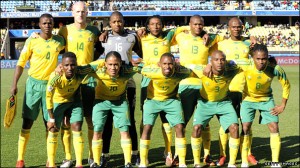 The players say that, they will only look to get paid if they qualify for the quarter-finals.
This is unusual for the national team as players often hold the football federation to ransom on the issue of bonuses before major tournaments.
It's for fear for the Football Federation, because in 2010 World Cup the Nation didn't get to the finals but demanded a huge pay and the federation wouldn't want to repeat its mistakes.
Coach Gordon Igesund, yesterday, minutes before Bafana's evening training session at Orlando Stadium, revealed that the players had refused to accept incentives for all three of their Group A matches.
"They said they don't want to get paid for the first game and they don't want to get paid for the second game as well even if they win these matches," said Igesund.
"They said: 'Let us qualify for the next round (quarterfinals) first' and then maybe they can get something."
This shows great determination for a team that has been suffering from heavy criticism following a winless streak in their previous two friendly matches against Norway (1-0 defeat) and Algeria (0-0).
Read also:
http://en.africatopsports.com/2013/01/15/afcon-2013-coach-gordon-igesund-is-very-pleased-with-the-performance-of-his-team/