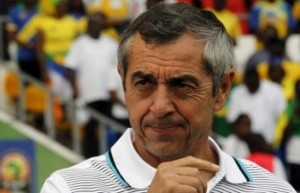 Absent from the African Cup of Nations of football scheduled in South Africa, Senegal is one of the countries that have disappointed in the playoffs.
The Lions of Teranga have decided to turn the page by signing with the French coach Alain Giresse.
The former coach of Gabon is already thinking of the challenges that lie ahead: "Challenge is the daily life of the coach. This is the daily of a selection or team. There must always be challenges in relation to competitions in which you participate. But there are some duties that one should assign to oneself: Senegal must participate permanently or semi-permanently in Afcon, it is the basis for such a country. After the World Cup is a bonus, for the fact that there are only five African countries involved. '
Eliminated therefore from Afcon, Senegal aims to compete in the World Cup in Brazil 2014. But they will have to play the qualifying matches on another field apart from the one suspended by the CAF, after the events that followed the defeat against Côte d'Ivoire.
For the coach, it is a problem: "It is a problem for the players not to have the support of their fans, and fans not able to attend the games. This is a handicap, we can always discuss it. But it's like that and not otherwise. '
Alain Giresse plays his first encounter with the Lions of Teranga on 5 February, in a friendly match against the National Sily of Guinea.