Born on October 9, 1988; Blessing Okagbare is a Nigerian long and triple jumper and short sprinter.
Palmares
In May 2007, at the All-Africa Games trials in Lagos, she established a Nigerian record of 14.13 metres in the triple jump.
At the 2007 All-Africa Games she won the silver medal in the long jump and finished fourth in the triple jump.In the latter competition her Nigerian record was beaten by Chinonye Ohadugha, who jumped 14.21 metres.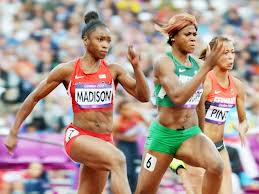 She won a bronze medal in the women's long jump event at the 2008 Summer Olympics in Beijing.
Okagbare scored a 100 m/long jump double at the NCAA Women's Outdoor Track and Fieldd Championship for University of Texas at El Paso, completing an undefeated collegiate streak that year.
She won the Nigerian 100 m title in 2010, running a time of 11"04, and stated that she was opting out of the long jump in order to save herself for the upcoming African championships.
She wins silver in Benin 2012 and was awarded Nigerian Sportswoman of the year 2012.
[youtube]http://www.youtube.com/watch?v=v8C4tjPhauA&feature=player_detailpage[/youtube]
[youtube]http://www.youtube.com/watch?v=OT34T2eW48w&feature=player_detailpage[/youtube]