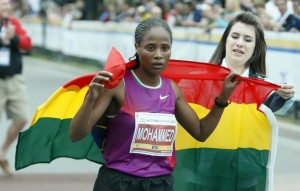 Last season, the Kenyan athletes dominated the quasi-distance and middle distance. This year, the biggest Ethiopian rival did not intend to let it go.
Ethiopians begin the season in the most beautiful ways to display their intentions in the United States. They are imperative at Houston.
In men as well as in women, Ethiopia has dominated the event in Houston by winning the marathon and half marathon races.
In the women, Merima Mohammed (2h 23'37 ") has taken the measure of his three compatriots Bizunesh Deba (2h 24'26"), Meskerem Assefa (2h 25'17 ") and Meseret Legese (2h 30'31").
Note the success in the half marathon of Feyisa Lilesa (1h 01'54 ") in men and that of Mamitu Daska (1h 09'53") in women.
The men's marathon is returned to Bazu Worku (22 years) in 2h 10'17 "well ahead of his compatriots, Teferi Balcha (2h 12'50"), Solomon Baicha (2h 14'37 ") Birhanu Gedefa (2h 15'37" ) and Dereje Abera (2h 17'09 ").
Read also:
http://en.africatopsports.com/2013/01/08/athletics-dibaba-triumphs-in-edinburgh/