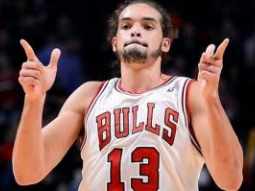 The Chicago Bulls played to scare. After leading by 19 points against the Toronto Raptors, they had to go through the extension box to finally win, thanks in particular to Carlos Boozer and Joakim Noah who were the rulers.
With another provision of choice against Toronto (107-105), the Franco-Cameroonian is still a valuable part of Chicago, the fourth team in the Eastern Conference.
Joakim Noah did not spare in the victory at Chicago. The pivot of the Bulls, who played 48 minutes, compiled 16 points to 5/14 shooting, 14 rebounds, 4 assists, 2 steals and 1 against the Raptors face. The Cameroonian finished as top rebounder (14 doses) of the encounter.
Aged 27, the son of Yannick Noah shows this season his best statistical career points (12.3 per game) in assists (4.1) to cons (2.1), interceptions (1 , 3) and the number of minutes played (38.1).
The French pivot could almost claim a place at the next All Star Game.