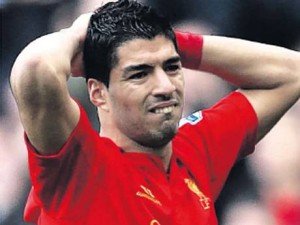 Lui Suarez is known for his fake falling and complains on the field of play when I t comes to football (soccer). Can we say he does this to win fouls, penalties or goals? This was the same thing he did during the 2010 world cup with Ghana during the finals but now it has become so obvious to the world and Fifa at large.
Jim Boyce, Britain's representative on Fifa, described Suarez's dive as "nothing less than cheating", adding that simulation was a "cancer" in the game. Everton manager David Moyes has also spoken publicly about Suarez's actions.
"I was accused of falling inside the box in a match, and it's true I did it that time, because we were drawing against Stoke at home and we needed anything to win it.
"But after that everybody jumped out to talk – the Stoke coach, and the Everton coach… I understood that the name Suarez sells (papers)."
However, he insisted that the criticism he received for his controversial recent goal against Mansfield was unjust, and also accused the press of using his name to sell newspaper.
Read also:
http://en.africatopsports.com/2013/01/06/premier-league-controversial-suarez-goal-seals-tie/