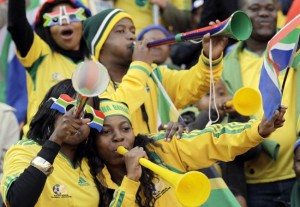 Fans of Soccer in the national Stadium of Johannesburg are braved for the wet weather to attend the opening ceremony of the Africa Cup of Nations (AFCON) on today Saturday afternoon in Soweto at the South of Johannesburg.
Three hours before the kick-off, there was a long traffic jam on the M2 to Soweto as cars headed towards the National Stadium in Nasrec where the opening game between Bafana Bafana and Cape Verde Islands was being played?
Wet South African flags were draped over supporter's cars and hung out of car windows.
Hawkers tried to cash in on those who still wanted to buy their country's flags but Johannesburg metro police chased them away from the road.
Roads leading to the stadium were all closed and motorists who did not have parking tickets had to park about a kilometre from the stadium and walk in the pouring rain.
However, the downpour did not dampen the fans spirits as they walked in the rain blowing vuvuzelas.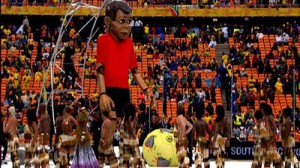 Many were predicting that Bafana Bafana would beat Cape Verde by a three goals margin.
The opening game had been sold out and about 88 000 supporters were expected to flock to the calabash-style stadium.
Read also:
http://en.africatopsports.com/2013/01/19/afcon-2013-insight-of-the-match-of-the-day-cape-verde-vs-south-africa